Teaching English as a foreign language is serious business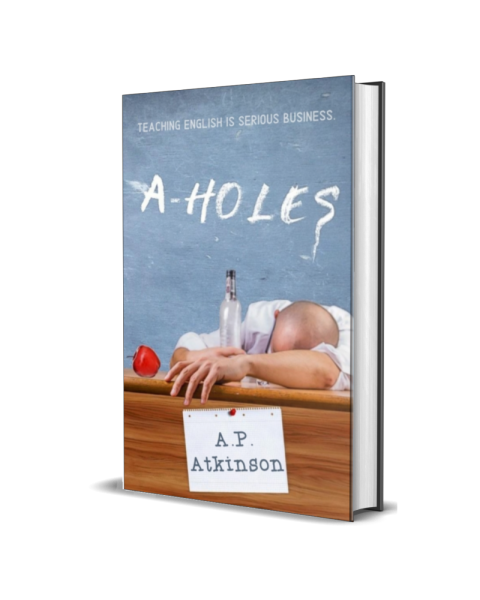 Paul has just qualified as an English teacher and is now living abroad, ready to show the world who he truly is. He's ready to mould the pliant minds of the young, to impart his sage wisdom and to prepare them to face their future dreams.
Sadly for Paul, it's not quite as easy as he thought it would be. He's about to discover that young people's minds aren't as pliant as he thought, he doesn't have any sage wisdom to impart and that your dreams can easily turn into a nightmare.
A-Holes is a comedy drama about teaching English in a foreign country. It's a fictional account but is rooted in the genuine experiences of the author, Jack, who has taught around the world for way too many years.
The story follows Paul, a new teacher fresh out of the two-week training course that's required before he's put in front of the impressionable mind of young people. He learns a lot more than they do as he experiences the downs, and further downs, of lives abroad.
The book has strong adult tones and themes and isn't suitable for sensitive people, those who are easily influenced or are younger than older, responsible teens.
All proceeds from this book will be used to support the educations of young people in Cambodia, ensuring they get the best possible chance for the bright futures they deserve.
Genre
Recommended for
Count
Warning
Genre
Recommended for
Count
Warning
All proceeds from this book go to the Espérance Khmère who offer sponsorships in Cambodia and arrange schooling for children who would not otherwise be able to afford it.
This organisation supported my wife, Aya, when her family couldn't provide the education she needed. They gave her the chance to earn a scholarship that provided her a solid academic foundation. Their support allowed her to go through grade-school, university and continue on to further education, earning all of her general certificates, a BA in English Language, a degree in accountancy and an ACCA accounting diploma. Now she works as the head of the accounting department of a major importer and owes this opportunity to the great works and support of these incredible people.
They continue to this day to offer education to the people of Cambodia who are not in a position to pay for it themselves. Every single penny of income that this book generates will help give disadvantaged children a great start in life, and give them a stable, safe and supportive platform from which to build the future
they truly deserve.
Everyone at the association, the children you're helping, and ourselves, would like to offer our sincere thanks for all your support.
This simple act really is making a difference.
Click the button to go to the Amazon site

Click the button to read the first few chapters completely free

Click the button to read articles about writing and other ways to waste your life