Cutting edge technology. A man with no memory. A new street-drug. High-speed police pursuit motorcycles. What could possibly go wrong?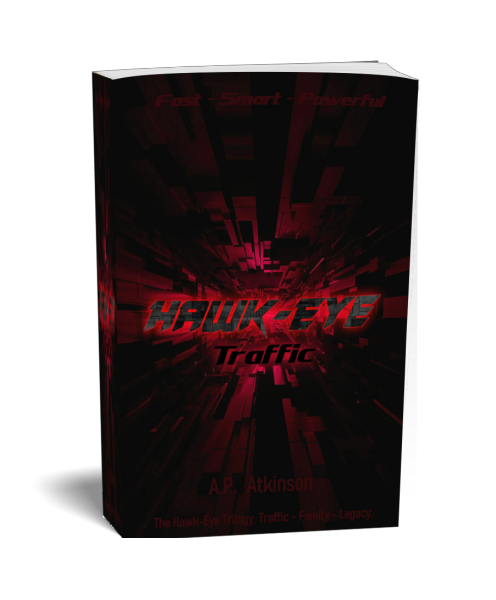 He wakes up with no memory of who he is. As the world floods in through his shattered mind he begins to realise that he might just be in a little bit of trouble.
What is the Hawk-Eye, a mysterious piece of experimental technology from the 1980s? At the heart is a computer so advanced that nothing built since has come close to matching its power. This was once all abandoned, but now the project has been found and is in the hands of a socially inept scientist and a man who likes to punch things.
Who built it and what does it have to do with a man who doesn't even know his own name? Who are the strange, shadowy people that live in this murky underground world of secrets and lies and what do they want with him?
More importantly, why doesn't he have any clothes?
Hawk-Eye – Traffic is an action-thriller in the style of 80s TV. It's a re-imagining of your favourite 1980s television 'super-vehicle' and adventure-style shows that some of us grew up watching. It's like being immersed in your favourite story from the decade that brought us the 'mullet', only it's been updated and modernised with a strong plot and relatable characters.
It mixes the classically comedic tongue-in-cheek tone of the time with moments of shocking darkness as it takes the audience on a wild ride into an adventure that might just change their world forever, and make heroes out of villains.
Genre
Recommended for
Count
Warning
Genre
Science-Fiction
Drama

Some comedy elements
Some horror elements
It's just a bit of everything really…
Recommended for
Count
Warning
Click the button to go to the Amazon site

Click the button to read this book free on our site

Click the button to go to an article about how and why we wrote this trilogy