By A.P. Atkinson and Seth Godwynn
The true story about the nature of the universe is finally told - badly.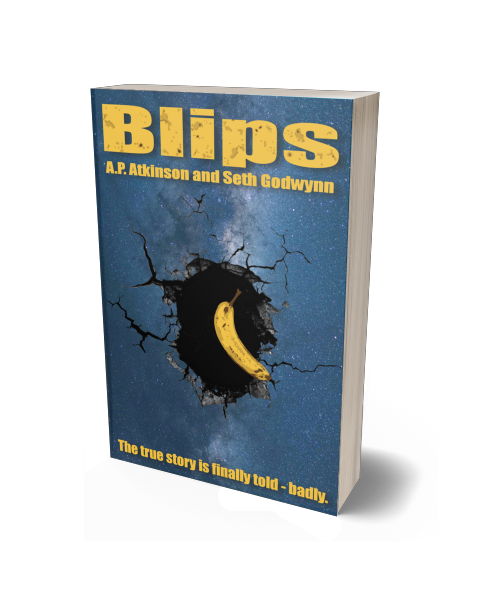 Number 1 and Number 2 work to monitor and protect the universe. From their office, a workplace that can manifest itself in any manner it chooses, they carefully watch all of reality, just in case the worst happens.
They exist as disembodied entities, floating into whatever physical form is available after applying for jobs that seemed a whole lot better before they knew exactly what they'd be doing.
But nothing can possibly go wrong, all of creation exists in infinite, beautiful forms and nothing could happen to change that.
Until one day…
A banana…
Blips is a story within a story about stories, a tale of the universe, within a universe of universes. When everything that can possibly go wrong actually does go wrong, Number 1 and Number 2 are stuck left to deal with it all.
They're sucked into a series of cracks in the universe, forced to see the world through the eyes of the people who exist in the growing series of errors that are beginning to tear apart all of reality.
Blips is a series of highly creative, diverse short stories, all linked together by an over-arcing single narrative as the two heroes fight to stop the universe from tearing itself apart.
Blips is the best free novel you've ever read, based on the worst idea you've ever heard.
Genre
Recommended for
Count
Warning
Genre
Science-Fiction / Fantasy

Recommended for
Count
Warning
Click the button to go to the Amazon site

Click the button to read this book FREE online

Click the button to read more short stories – different ones. Kind of…