Here you can read an entire shorty story, completely free. Blips are strictly less than two thousand words, or maybe more, and typically have a surprise twist in the tail. These stories are free for you to download and share but please link back to us so we can build our site and create more free content. Thanks very much for visiting. Please enjoy the story.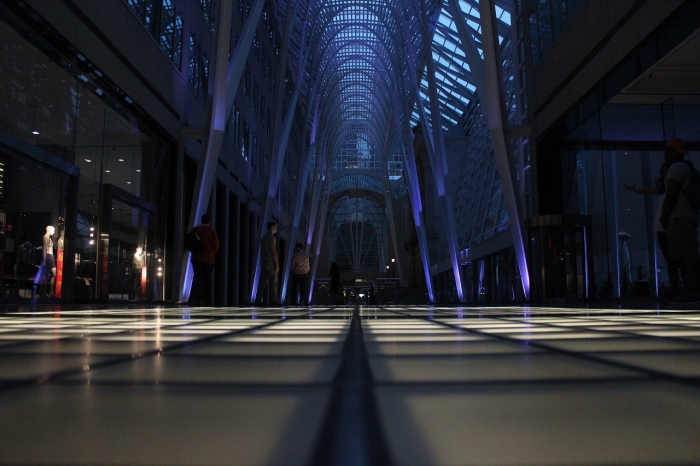 An Elevated Philosophy began as a suggestion by Seth about a way to express a universal truth in a story, in a manner that encapsulated an intelligent discussion of human existence. Jack frothed at the mouth and decided to add some stupid jokes about cheese and to echo characters from another book in a way that nobody else would give a shit about.
This is what we ended up with.
Seth Atkinson/Jack Godwynn
Softly annoying music wafted through the air: a tinny, artificial sound whose origins had as much to do with a musician as Twitter had with intelligent discourse. It wasn't music, per-se, more the sound of a cheap phone's built-in ring-tone, or the background buzz of a child's toy musical keyboard that was running the preloaded tunes designed to irritate the parents who bought it.
However, the painfully bland noise was the perfect accompaniment to the surroundings. It was a metal and concrete building, almost industrial in appearance but with a thinly-spread veneer of civility smeared across it. It was a shopping mall, a cathedral to capitalism: though perhaps one where the religious aspects had receded to the degree that the people involved in managing it were now far more busy with performing acts of barbaric immorality on others, than warning them of the dangers of thinking about minor ones—as usually happens.
And then, with a lurching shudder, it stopped dead, trapping them between the second and third floor.
Silence.
"What?" said Rod, peering around. "What's happening?"
"Nothing!" said Dale, which was simultaneously 100% accurate and completely the wrong answer.
"No, something is definitely happening…" Rod said thoughtfully, furrowing his brow and glancing around with a worried look on his face.
"We've stopped moving," said Dale in his flat, grating monotone. "Literally nothing is happening."
"Yes," said Rod in annoyance. "But when something is supposed to be happening, then happening becomes its dormant state. Its sudden refusal to continue happening thus becomes a happening in its own right."
"It does," Dale agreed. "Or rather it doesn't. Isn't it funny how quickly logic breaks down when you apply it to real-world situations?"
Rod looked ashen. "We're trapped," he said, running a hand over his untidy but excruciatingly average mop of brown hair. He wore glasses, but somehow managed to do so without flare or style, a difficult trick to pull off.
"We're trapped," said Dale, echoing Rod's sentiment to the letter. He looked out, gazing down at the floors beneath them. "We've stopped moving entirely. We're stuck here until they fix this thing."
"What are we going to do?" Rod said, looking quite worried.
"Nothing," Dale said with a shrug. "We were doing that before anyway, so it shouldn't be too difficult. We've been practising for as long as I've known you—which is too long."
"Yes!" Rod grumbled. "But, I don't want to do nothing here, I want to do it somewhere else."
"We'll be alright. I have some cheese in my pocket."
Rod narrowed his eyes. "Why do you have cheese in your pocket?"
Dale slowly raised an eyebrow. "You don't have cheese in yours?"
"No! Of course I don't!"
"It's great! You never know when you're going to need some cheese. I also carry a condom in my wallet, but I think it's more likely that I'll need the cheese first. It is, after all, what history has taught us." He sighed to himself and gazed once more over the distant mall below. Turning back to his friend, he asked, "What do you carry?"
"Just my keys."
Dale rolled his eyes upwards. "I don't really get why people carry keys," he said. "I mean, it's not like your house is right here. You're not going to need them until you get home. And your mum is always there—she hasn't left the house in four years."
"But she can't really get to the door," Rod explained. "And I like my independence."
"You live with your mum. How are you independent?"
Rod glared at him angrily. "I just am," he grumbled.
"I have a key," Dale said, obliviously. "I just leave it at home. I used to carry it with me, but my lock got all dirty from all the bits of cheese in it. It was sub-optimal."
"What if someone tries to break in?"
Dale pondered this for a moment. "I had something worth stealing once but I accidentally lost it. If someone broke into my house and saw the way I lived, they'd end up with suicidal depression. I'd actually feel sorry for them. I'd have to give them some cheese to cheer them up."
Sounding slightly depressed himself, Rod added, "Well I like my security."
"Why?" Dale asked flatly, his voice droning on emptily. "Your mum ate everything in your house. Didn't you have to sell all your furniture just to buy even more food?"
Rod glared at him. "Not all of it…"
"Not her bed, I guess," Dale guessed. "She hasn't really left it since I've known you. I can't imagine how bad it smells, although your jacket does provide something of a clue about that."
"I'm not the one with a pocketful of cheese!" Rod growled through gritted teeth.
"My cheese is pocket-fresh!" he retorted with a weak flutter of a smile.
Rod tutted to himself. "How long do you think we're going to be stuck here?" He checked his watch. It had an analogue face, and it took him a moment to work out what the time was. "My god, we've been here for nearly three minutes already."
"Could be all day," said Dale. "Did you want some cheese, by the way?"
Rod flashed a glance at his slightly discoloured pocket. "Um… No…"
Dale looked at him with hollow, dead eyes that reflected no hint of the vibrant, imaginative being that dwelled deep within him, since evidently no such being did. "Are you sure," he said? "It's cheddar. I think. It certainly smelled like cheddar when it went in, they always smell that way when they come out, of course."
Rod watched as a small group of people passed by in the far distance below. He sighed to himself. "Look at them! All these people enjoying their lives, and we're stuck here contemplating the relative merits and demerits of consuming dairy produce from the pockets of an idiot."
"The world needs us, Rod," he said. "Just as night giveth value to day, does death not likewise giveth value to life? We exist to provide context for the success of others."
Rod's shoulder wearily slumped. He sighed to himself and shut his eyes for a moment. He opened them and said softly, "I had hoped that my life would amount to more than a mere warning to others."
"You know what I wanted?" Dale said, turning to face him with his frighteningly blank expression that was more or less permanently etched on his face.
Rod shrugged.
"Monterey-Jack," he said simply. "But, Cheddar was cheaper, and I'm saving up for a block of Wensleydale."
"A whole block?" Rod said, sounding impressed.
"Not a whole block," said Dale, grumbling at the ridiculousness of the suggestion. "Nobody's pockets are that big."
He was right, of course. Rod nodded in agreement.
"I have an interview next week," Rod said, making a feeble attempt to strike up a conversation.
"Jobs suck," Dale told him, making a very robust attempt to kill one.
Rod struggled for a moment and failed to find any reasonable argument to that. He continued regardless, "There's a vacancy at the local chicken place for a waiter. If I get it, I'll get free buckets."
"Get me one!" Dale said excitedly. In terms of his excitement, any answer that was returned from him in under 20 seconds was generally considered a sign of an elevated emotional state.
"You like chicken?"
"No," said Dale. He stood in silence for a moment and then continued, "I have a leaky pipe. Buckets are always useful."
"Buckets of chicken!" Rod snapped at his stupidity.
Dale frowned at him, cocking his head very slightly to one side. "They pay you in buckets made of pure chicken?"
"No. They pay me in cash, but I also get buckets of chicken for free. They're not real buckets though."
"Are they real chicken?"
Rod frowned at him and gave him a really angry scowl. "That would be a legal question, which is currently undergoing a lengthy litigation process, so we're not authorised to talk about it."
"Good point," Dale said. "You never know who's listening."
As the mall stretched out below them, people went about their daily lives in blissful ignorance of the terrible warning that was trapped so close and yet so untouchably far, fabricated by the universe to inspire them to try just a little harder.
"Nobody is listening…" Rod sighed.
"Yes," Dale said in agreement. "Can you imagine if this was a story? Two people with the worst possible lives just trapped, talking nonsense about pockets of cheese and dreaming of free buckets made of chicken? Even if the story was free, you'd feel a bit cheated wouldn't you?"
Rod said, somewhat fancifully, "There's nothing wrong with our lives, they'd make a fine story."
Dale said, somewhat more factually, "No."
Rod looked away in disgust. "Well, what would you do? Make it a science-fiction? Give me ginger hair? Make you more outgoing? Maybe you could set our stories on a gigantic spaceship where we're the greatest heroes in the galaxy?"
Dale shrugged. "A more mature story would probably focus on regular people that are more accessible to a wider public, figurative anchors that draw the audience into their world. I'd have the protagonists be more natural, but find themselves in situations that are increasingly ludicrous, and gradually increase their aptitudes until they become almost caricatures."
"What would you know?" Rod said, shaking his head at him. "You're a Liberal Politics major."
"No!" Dale told him, his demeanour edging very slightly towards personal pride. "I dropped out!"
"That's the reason you can't get a job!" Rod told him.
"That's two reasons," he corrected. "There's also that whole mental illness thing, the incident, and the prescription pills I was subsequently required to take."
Rod nodded and gave him a sympathetic look. "I wonder what you'd be like without them?"
He blinked slowly and gazed out for a moment that stretched on for a very long time. Finally, he replied with his usual blank lack of enthusiasm, "I don't think I'd be as much fun."
Rod sighed to himself and checked his watch. "5 minutes now," he grumbled. "We've been trapped on this escalator for 5 whole minutes!"
"Escalator…?" Dale repeatedly thoughtfully. "Not… elevator?"
"No," Rod told him. "Look around you. It's clearly an escalator."
Dale looked around him, and sure enough, an escalator was exactly what it clearly was. He said, rubbing his chin thoughtfully, "When an elevator stops working, it becomes a locked cupboard. When an escalator stops working, it becomes… stairs."
"Yes," said Rod, nodding his head at this incredibly astute observation. "So?"
"So… we're standing on stairs?" Dale said, slowly putting the pieces together.
Rod looked up and down the motionless, black metal steps. "Yes, I suppose that is an accurate description of our current predicament," he agreed.
"So we could have just walked up," Dale suggested, with a notable hint of uncertainty. "Couldn't we?"
"Well why didn't you?"
"Because you didn't!"
"If I wanted to walk, I would have worn walking shoes!" Rod grumbled.
Dale looked down at his feet. "What are those then?"
"Running shoes!" he tutted. "Obviously!"
"You never run."
"I have a pair of slippers at home," Rod said sarcastically. "What's your point?"
"Clearly if there was a point to all this, we wouldn't have been standing on a set of stairs waiting to be rescued," Dale argued, making rather a good point in the process.
"Broken stairs…" corrected Rod.
"My point is, broken or otherwise, why don't you just climb the stairs?"
"Fine. After you!"
"I know: why don't we both start climbing together," suggested Dale. "After three. One… two…"
"Three!" they both said together.
Nothing happened. Or, it might be more accurate to say that the something that should have happened, didn't happen, so it would perhaps be more accurate to state that something did happen, which was that neither of them made any attempt to move in an upwards direction.
"Well that didn't work…" said Dale, blankly.
"Escalators are funny," suggested Rod. "They get inside your head. They entice you into abandoning your self-reliance, strip you of your agency. Before you know it, your free will has become a mere plaything for the machine!
"It's a lot like life really…"
"True," agreed Dale. "Besides, we'd look ridiculous! Who climbs escalators? Nobody climbs escalators, that's who! I say we wait it out!"
"Agreed!"
"After all, we've already waited here this long…"
Read a sample of 'Rob and Dave' for FREE - Here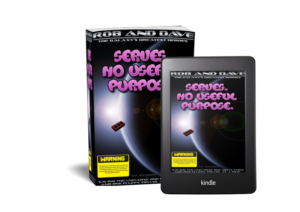 Many thanks for giving us this chance. We hope you enjoyed the free story and are encouraged to read more. If you choose to buy a book from us you're supporting new independent authors and helping us to build this site and create more new content.
If you liked what you saw then please also consider reading our free books, other short stories and articles. Help support us to help support the future of independent fiction.